October 3, 2011 (Denver, Colorado):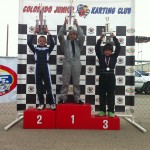 Summit of Everest Racing recently wrapped up another successful season in the IKF Region 4A Championship Series hosted by the Colorado Junior Karting Club.  Drivers Max and Everest Fedler both finished with multiple podiums and successful campaigns.  We thank sponsors Bridgestone, Briggs Racing, 3R Racing, Red Line Oil, Stadium Medical, 1000 Fold Yoga, and many others.
At the season ending Awards Show, SCCA Professional Racer Robb Holland, from K-PAX Racing had this to say about Everest.  "Everest is in his third season with the CJKC and ran a schedule interrupted by Lacrosse Championships and a rib injury.  In five races, he finished on the podium three times in his first Junior 1 Novice season.  His skill as a racer improves with each race and he is a great ambassador of the club as he became fast friends with his fellow competitors."
As for Max, he followed up a Junior 1 Novice Championship  in 2010 with a sixth place finish in Junior 1 in 2011.  Robb's comments included "4th through 7th places were separated by only 30 points in the 2011 Championship showing how competitive this group was.  Max is a veteran who started in 2008 getting in a couple of races in Kid Kart.  He is now in his third season of Junior 1 after winning the Novice Championship last year.  His highlights this year were a podium in Race #6 at Action Karting and setting the second fastest race lap in the Round #8 sending a message to others that he'll be challenging them for the championship next year.  He and his buddy Evan have had more wheel to wheel racing laps in the past two years than we can count so it was probably fitting that they would each earn 1270 points."
You can see Everest and Max's comments at the Awards on the Summit of Everest Racing Facebook page.
Max and Everest are currently planning their Winter 2011-2012 activities which are expected to include the Gatorz Challenge of the Americas in Arizona and California.  In 2012, both are expected to run for championships with the Colorado Junior Karting Club.  Stay tuned for exciting upcoming announcements regarding 2012 sponsors and programs!