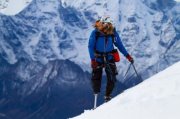 Denver, Colorado (January 30, 2012): We are pleased to share the news that High Ground, a new film by Academy award nominated producer Don Hahn and award-winning director Michael Brown, is being released at the Boulder International Film Festival on February 18, 2012.  Tickets are available online.  High Ground tells the story of eleven wounded veterans whose road to recovery takes them to one of the guardians of Everest – the 20,075-foot Himalayan peak known as Lobuche.
One veteran is blind, three have lost limbs, and all 11 suffer from the mental and emotional ravages of war. Blind adventurer Erik Weihenmayer and his history making team of Everest climbers, led by Jeff Evans, guide the soldiers. Together they take on a formidable mountain challenge, all in the name of celebrating the return of our nation's heroes.  More information is available at the movie site.
Our Summit of Everest team met the soldiers and film crew in Nepal in October, 2010 and quickly realized we wanted to be a part of this important mission.  In 2012, a new organization called Soldiers to Summits will take another group of veterans to Cotopaxi in Ecuador.  Several of the 2010 vets will be there as mentors and David and Jeff will be working with the expedition team as well.