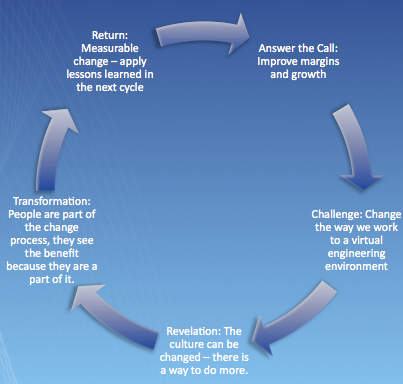 Denver, Colorado (May 24, 2012): In a week where HP announced they were laying off 27,000 people, the realization that businesses are still trying to cut their way to improved profit margins and increased competitiveness is pretty stark.  27,000 people.  Think about that – it's the population of a small town.  Now think about the fact this this will probably affects more than 100,000 people (families, etc.) – that's a medium sized town.  Now, we're not about bashing HP or anyone else.  We understand business – it is tough, competitive, and only the strong survive.
However, in this same week, we were able to deliver a speech to an international audience about improving profit margins and increasing market penetration through job growth.  At the 3D Collaboration and Interoperability Congress this week, Summit of Everest Group and Air Methods presented the results of a study and project that demonstrably improved efficiency and productivity in the United Rotorcraft division of Air Methods.  They were challenged with the same situation that HP is confronted with – a stagnant key market putting pressure on margins and the need to create growth in new, highly competitive markets.  For Air Methods, the choice to accomplish this was either to reduce headcount (which is a fancy way of saying "we're going to fire people") or find a way to Do More with their people.  They chose to Do More.
For those that are familiar with these situations, you might think this was going to be a technical challenge.  It wasn't.  In reality, a complete change of culture needed to take place.  The teams needed to think and operate differently.  And as we all know, the only way you can change a culture is if the people are bought into and support the change.  You can't force feed it.  You can't trick people into it.  No, these are smart, hard working people.  They knew changes SHOULD happen.  They just didn't see how they COULD happen.  There were many reasons, some very valid, for this belief.
The only way for the needed culture, process, and organizational changes to take place would be through the creation of a new belief structure.  This was the entry point for the heroic journey for this team.  By accepting their "Call to Adventure", which was essentially to figure out how to save their own futures and actually make them better, they embarked on the journey into the unknown.
Along the way, they faced the challenges of changing the culture.  It started with overcoming the belief that the very project itself wasn't really just a way to justify layoffs.  The revelation for the team came during a customer crisis where they only way to solve the crisis was to put in place new methods, new ways of working.  When they were able to resolve the problem and actually prevent it from happening in the future, the belief that change COULD NOT happen became a belief that change IS happening.
That was the transformation.  From that point, the technical and process related issues could be addressed with confidence and collaboration.  The results were astounding as this team delivered 2x the expected result and gave the company the margin and productivity improvement that otherwise would have come from cutting costs (people).  Now these people are a part of moving the company forward into new markets and helping create growth in positive ways.
To us, that is what a hero does.